Orange You Glad You Stopped By
Oranges can only ripen on the tree. It takes 300 days.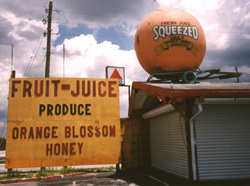 Historians say the orange rolled into America around 1579 in St. Augustine, Florida. Their abundance quickly grew across the northern part of the state at the hands of the Timucuan Indians. Little did they know they were spreading the seeds of what would become a defining symbol of Florida.
As bad frosts, citrus canker and suburban sprawl continue to eat up much of the state's orange groves, the fruity cliché endures. Only in Florida can you travel from Orange, down the Orange Blossom Trail, through Orange County to catch the Orange Bowl. After the trek you may want to consider a seaside rest in Port Orange. The orange is referenced by the bushel leaving Florida's roadsides littered in appeeling sights.
Florida oranges are heavier than other oranges of the same size. Their thin rinds leave space for more juice.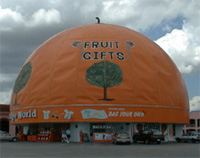 Orange World in Kissimmee, FL has been ripe for souvenir picking and citrus shipping for decades. The building itself has blossomed into the World's Largest Orange. It stands at 92' wide, 60' high with a weight of 35,000 pounds.

If you are asking yourself what kind of a glass would you squeeze something that size into, The Florida Department of Citrus has oranged the answer. They have created the World's Largest Glass of Orange Juice. It tends to be more of a to-go cup, traveling the country to promote healthy living.

The 9-foot glass weighs 4-tons and contains 730-gallons of real juice. It has a built in generator, which keeps the liquid at a cool 35 degrees. In June of 1998 it was accepted into the Guinness Book of World Records at the Portland Rose Festival.

Since the infancy of tourism, the orange has had a way of attracting attention. All state issued license plates bare the fruit and welcome centers at Florida borders offer free cups of OJ to travelers. The practice is quite fitting considering Florida orange juice is the state's official beverage and the squeeze is put on more than 90 percent of all oranges grown.

The orange makes a stand on US 50 in Rital, FL.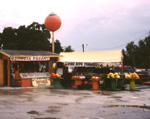 With the orange having such a profound effect on Florida, you would think that someone would have built a monument to it. And that is exactly what Ralph Harper did when he gathered up 240 investors to create the Florida Citrus Tower in 1956.
The Tower's home in Clermont, which once sprouted endless groves along US 27, has been picked clean of oranges in recent years due to frosts. Real estate tycoons looking to cash in on the creme of the crops have eaten up the land. Current literature explains that the Citrus Tower now "serves as a beacon guiding a burgeoning new business and population base." To tourists stopping by the attraction, the new view tends to rot.
The Bad atlASS